If you're having a rough day, I've got just the thing. Here are some of the most sickeningly adorable gifs of baby monkeys on the entire Internet. You're welcome in advance.
Baby monkeys are absolutely incredible in every single way.
They are truly the greatest gift our planet has to offer.
They make everything better. Everything.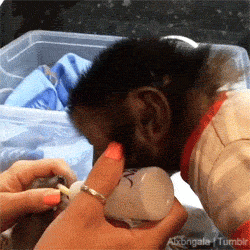 Just look! How sweet! How precious! How perfect! Try scrolling through these gifs without smiling. Just try.
But now… Time for my favorite baby monkey gif of all time. Are you ready? Scroll down.
Ready?
You. Are. Welcome.